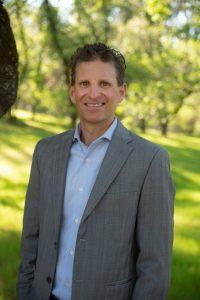 Aaron A. Norman, CD, DDS, AFAAID
Dr. Aaron Norman completed his undergraduate studies at Albertson College of Idaho (now College of Idaho, majoring in biology and history. He then attended the Universidad Autonoma de Guadalajara in Guadalajara, Mexico, graduating in 2011 as Valedictorian with his Cirujano Dentista (CD), and at Loma Linda University, from which he graduated in 2014 with his Doctor of Dental Surgery (DDS) degree.
After graduating from Loma Linda, Dr. Norman completed a 10-month advanced education course in implant dentistry from the American Academy of Implant Dentistry (AAID). In October 2019 he received his Associate Fellow from the AAID and was honored in their annual meeting in Las Vegas for this achievement. Dr. Norman is very active in his local and state dental societies (American Dental Association®, California Dental Association and the Northern California Dental Society) as well as in his local dental study club that is associated with the Seattle Study Club. He completes approximately 50-60 hours of continuing education courses each year to stay at the forefront of the dental field.
It is very important to Dr. Norman to continue the tradition of high-quality dentistry delivered in a very family-friendly environment which was started by his father here in Redding in 1976. They practiced together for 3 years before his father retired, and it was a very fulfilling time for Dr. Norman in his professional development.
When not in the office, Dr Norman and his family love to enjoy all the outdoor activities the North State has to offer. They love to hike, camp, mountain and road bike, Nordic and alpine ski and spend time on the lake. Dr. Norman is also very active in leadership roles at his local Seventh-Day Adventist church.
Meet Our Team
We love helping our patients care for their smiles, and take the time to get to know you and help you feel comfortable each time you visit Norman Family Dental Group. Give us a call at 530-243-5013 to schedule your appointment with our dentist, Dr. Aaron Norman and learn more about complete dental care in Redding, California, and the surrounding areas. We look forward to meeting you soon!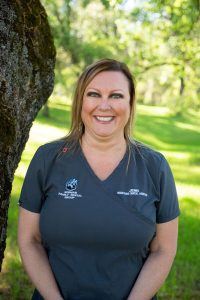 Jenn
Registered Dental Assistant & Treatment Coordinator
Jennifer has been a part of our team since November of 2009. She graduated from Apollo College in 1994 and became a registered dental assistant in 1999. She helps our office run efficiently and makes sure that our patients have a great experience at our office. She loves our patients and our team members and they fill her day with happiness.
Jennifer has two children and one granddaughter. Away from the office she enjoys crocheting, traveling, hiking, spending time with her dog and taking painting classes.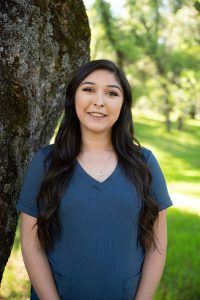 Jenny
Sterilization Technician
Jenny graduated from Enterprise High School in 2015, and joined our team in August 2019. She loves that our team is like a family and that our office is such an easy-going environment. She enjoys that everyone is always helpful and understanding, and is happy to go to work every day in a place where she feels appreciated. Jenny helps keep our practice clean and sterile so that our patients are safe and well cared for. She also helps set up the treatment rooms and trays and keep our office stocked with all the materials we need so that our hygienists and assistants can keep things flowing in a timely manner.
Jenny and her high school sweetheart, Nathan, are expecting their first baby girl. She is grateful to be working with her soon-to-be mother-in-law, Jenn. In the summertime Jenny and Nathan like to go out fishing on the lake, and enjoy taking their dogs Koda, Oakley and Kelso out on different trails when the weather is nice.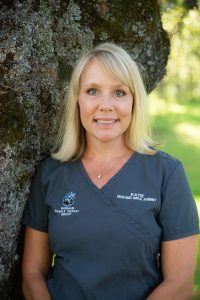 Katie
Registered Dental Hygienist
Katie completed her Associate's degree at the University of Bridgeport Fones School of Dental Hygiene. She them completed her Bachelor of Science degree at the same institution, graduating magna cum laude in 2007. Katie joined our team in March 2004, and loves the integrity, teamwork and great dental work that takes place in our office. She is proud to be here and does the best she can to educate our patients, provide high-quality hygiene care and build personal relationships with patients she has grown to love.
Katie married her high-school sweetheart, Aaron, and together they have two children, one son and one daughter. Outside of the office she loves coaching kids, specifically NorCal Rage travel softball and Junior Giants baseball!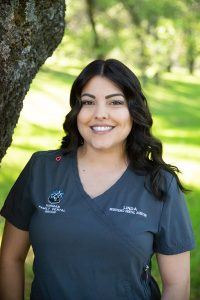 Linda
Registered Dental Assistant
Linda joined our team in May 2017 after finishing school, and has had the opportunity to continue to learn and grow with the office. She enjoys that our office is very family oriented – we truly love and care for each other and she could not have chosen a better group of people to work alongside! Linda assists our dentist chairside during a variety of treatment procedures so that we can provide efficient and high-quality care.
Outside of the office Linda enjoys spending time with her family and friends, going to the movies and attending paint night events.
Lisa
Front Office Coordinator
Lisa joined our team in 2009. Lisa helps to maintain the structure of our practice. She enjoys getting to know our patients and being a part of the healing process. When she is away from the office she enjoys spending time with her granddaughter, creating floral arrangements and making bath and body products.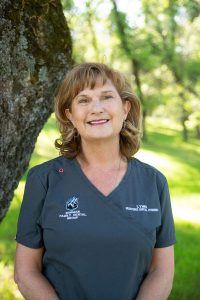 Lynn
Registered Dental Hygienist
Lynn graduated from Azusa Pacific University with her Bachelor of Arts degree in 1988, and decided later on to become a dental hygienist, completing her degree in dental hygiene from the University of Louisville School of Dentistry in 1994. She joined our dental family in January 2012, and enjoys coming to work each day and seeing her coworkers and patients.  As a hygienist, Lynn's main purpose is education and the prevention of oral diseases. She is a great communicator and her patients trust her professionalism and opinions on their oral health.
Lynn and her husband Jack have been married for over 30 years. They have three grown children and one amazing grandson. Lynn enjoys the outdoors tremendously, and she and her husband regularly hike and camp out in the area with friends, family and their two dogs. They love to travel to as many National Parks as possible as well as overseas when they are able. Her favorite destinations to date have been Yellowstone and Italy.